Tweet

---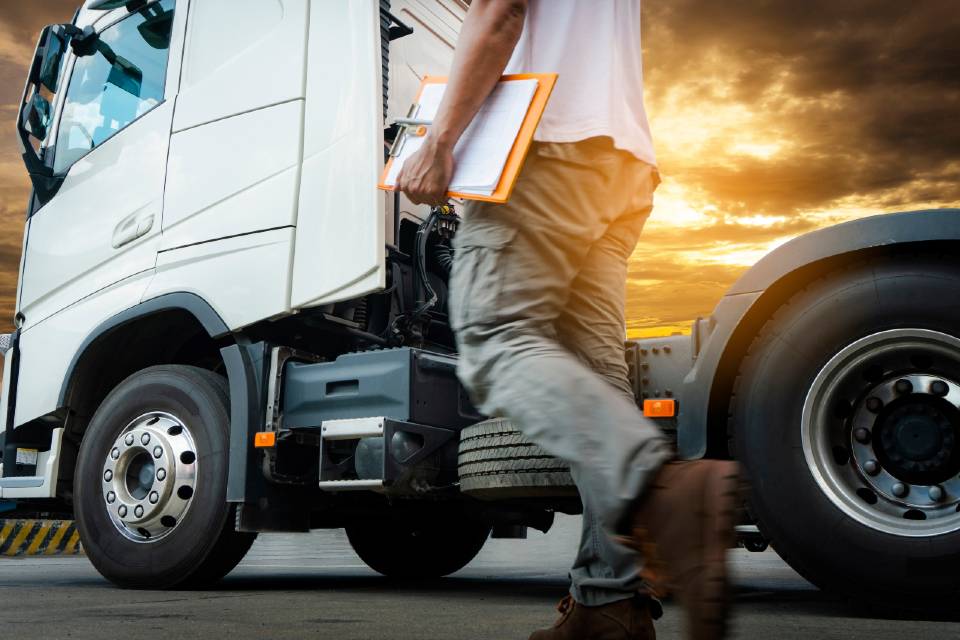 Urgent message: Demand for DOT-related services for truck drivers is soaring. Urgent care centers can augment traditional insurance-paid visits with B2B relationships while serving a historically unhealthy population.
Alan A. Ayers is President of Experity Consulting and Senior Editor of The Journal of Urgent Care Medicine.
The commercial trucking industry in the United States is massive (Table 1). The U.S. Department of Transportation (DOT) requires that all commercial motor vehicle drivers receive a physical every 24 months, though some employers require them even more frequently.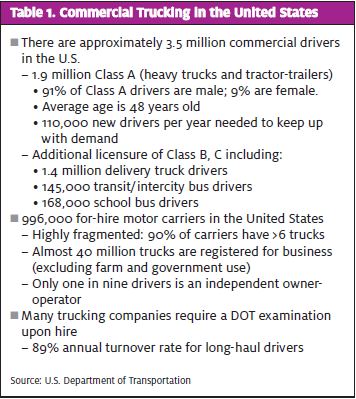 This is a major opportunity for urgent care centers across the country.
Adding services targeting truck drivers, including DOT physicals and urine drug screening, represents a source of potential revenue. At the same time, urgent care centers are well-positioned to provide much-needed healthcare services to a traditionally unhealthy and underserved population.
If you aren't offering DOT services at your urgent care clinic yet, you should be.
What Is a DOT Physical?
As described, the DOT requires commercial vehicle drivers to go through a physical every 2 years. Unlike a generic physical, DOT physicals have specific requirements related to the work being done.
To pass a DOT physical, drivers need to:
Have at least 20/40 correctable vision in both eyes (glasses/contacts are allowed)
Be able to distinguish colors on traffic signals
Pass a forced whisper hearing test
Have controlled blood pressure under 140/90 (with or without prescription medications)
Not have diabetes requiring insulin (except with an exemption from the Federal Motor Carrier Safety Administration [FMCSA]1)
Have a hemoglobin A1C level of 8 or less
Pass a urine drug test
This physical applies to drivers behind the wheel of trucks that weigh more than 10,000 pounds, vehicles with more than eight passengers (or vehicles capable of holding more than 15 passengers), as well as HAZMAT vehicles.
DOT Physical Provider Training
Due to the specialized nature of DOT physicals, providers administering them need to be listed on the National Registry of Certified Medical Examiners (NRCME). This certifies providers are specifically trained to determine if a driver meets the physical standards of the FMCSA.
Providers who are part of the National Registry can perform DOT physicals and are a tremendous asset to any urgent care clinic.
To become certified, providers (MDs, DOs, PAs and/or NPs) must:
Be licensed to perform physical exams in accordance with state and local laws
Register on the National Registry website (https://nationalregistry.fmcsa.dog.gov/home)
Complete FMCSA training to prepare for the NRCME exam
Pass the National Registry Medical Examiner Certification Test
Education courses for providers seeking to join the National Registry are available for around $250-$500 and take place both online and in person. Most courses also include CME or CE credit upon completion. Table 2 lists the subjects an NRCME Exam prep course typically covers.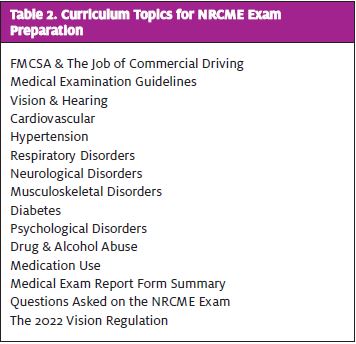 DOT Urine Drug Screening
Urgent care clinics offering DOT physicals should strongly consider adding urine drug testing services if they aren't already being offered. A major component of the DOT physical, urine drug screening is also utilized outside of these appointments and represents another source of revenue.
In the U.S., the drug testing industry generates approximately $6.3 billion annually. Urgent care clinics are well-positioned to get a cut.
For the trucking industry, drug screenings take place frequently, including at the time of:
DOT physicals (every 2 years)
New hire onboarding
Randomly (50% of a company's employee workforce annually)
Post-accident/post-incident
Fit-for-duty (return to work) exam after absence or leave
Of course, urine drug screening isn't just utilized by the trucking industry. It has been adopted by many industries where employee safety is paramount and workplace safety hazards are amplified for those not operating at their best.
For instance, DOT-specific drug testing applies to those working in occupations such as:
Non-DOT Commercial Drivers Licenses
FAA flight crews
Railroad
Maritime
Pipeline
HAZMAT
Meanwhile, an additional 16% of non-DOT employers require drug testing for their employees. The range is from 25% of all employees in West Virginia to only 10% in California, according to the U.S. Bureau of Labor Statistics.2 Industries like healthcare, utilities, energy, and manufacturing are a few of the most notable.
Incentives for required drug testing are numerous. Workers' compensation discounts and "Drug-Free Workplace" program credits require testing. Meanwhile, data show that on-the-job injury rates are higher when drug testing programs are not in place. This incentivizes companies to institute testing policies as part of employee safety programs.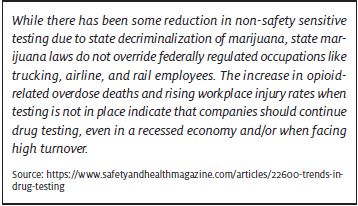 Where random drug screens are required, companies with fewer than 49 employees "pool" their employees in a consortium with other companies. An urgent care operator can assist employers in the management of their consortium processes.
How Urgent Care Clinics Can Implement DOT Physicals
The nature of DOT exams and urine drug testing makes these services an ideal addition to your urgent care center. Your facilities are likely already set up to accommodate both services. Meanwhile, the cost of getting providers certified for the National Registry is a minor investment compared to the potential revenue that can be generated.
While DOT services can be added quietly, it may be advantageous to make them a focal point of your center. Whereas walk-in urgent care volume is greatest early in the week, early in the morning, and late afternoon/early evening after school lets out, DOT physicals can be scheduled to occupy the afternoon "lull" faced by most centers. This levels the ebb and flow of urgent care visits and creates a steady flow of patients throughout the day, thus maximizing provider and staff patient per hour efficiencies. Additionally, employers tend to hire most during the summer months, when urgent care is historically slow, thus flattening the impact of cold and flu seasonality on urgent care revenue.

In addition to marketing to truck drivers directly through point-of-sale displays, search engine and Internet marketing, a center should seek to develop relationships with trucking, logistics, and distribution companies in your area. Many employers want a one-stop shop for services like physicals, respiratory fit testing, TB testing/x-ray exams, functional capacity testing, audiology, and spirometry. If your urgent care center can offer these services, you can take advantage of B2B marketing channels to drive repeat traffic. This is a great way to acquire patients outside of your traditional "urgent care" demographic.
It's worth noting that many DOT-related services can be provided by non-licensed staff, such as medical assistants. This allows your center to reap the benefits of offering these services without bogging down providers who are already juggling high throughput.
Why DOT Physicals Are a Ready Opportunity
Urgent care operators would be wise to take note of the enormous demand for DOT physicals and drug testing services. While there is revenue to generate from these services alone, they also open the door for further opportunities given the notoriously unhealthy truck driver population.

If nothing else, offering DOT physicals helps diversify your urgent care center's revenue stream away from typical insurance reimbursement.
When a driver comes to your clinic for their DOT exam, it is usually billed to their employer as a cash (Net/15) invoice. This brings quick and direct revenue into your clinic. It also gives you flexibility to adjust the pricing of your services, allowing your center to stay competitive and turn the biggest profit.
However, this is far from being the only benefit.
The addition of DOT physicals and urine drug screening paves the way for additional downstream revenue. It's no secret that truck divers struggle with health problems like obesity, sleep apnea, and hypertension. Most of these issues are propagated by the unhealthy lifestyle inherent in trucking as an occupation. Often, this includes factors like smoking and poor diet.
Ultimately, the trucker population is in desperate need of high-quality preventative care, medical treatment, and health education.
Urgent care centers have a fantastic opportunity to provide these services.
If truckers are already coming through your doors for a DOT physical or urine drug test, they are more likely to seek other injury/illness services. This gives them a chance to take care of their health problems conveniently and cost-effectively. Moreover, since many trucking companies offer health insurance for their employees, those visiting your clinic are more likely to take advantage of those benefits.
Truck drivers also require frequent documentation for conditions like sleep apnea and hypertension to pass their DOT physical. Your urgent care center is the perfect place to get this documentation signed by a provider. With many urgent care companies adding primary care services, the trucker demographic is likely to utilize these services for convenience and stability. Meanwhile, your clinic can also make referrals to specialists when necessary.
CONCLUSION
Millions of truck drivers are required to seek DOT physicals and urine drug screening services every day. By offering them at your urgent care center, you open the door to additional revenue from B2B relationships and can address the healthcare needs of a traditionally unhealthy population. Moreover, DOT-related services help normalize the daily traffic your center sees and generate reliable noninsurance revenue. This opportunity is one that urgent care owner/operators should incorporate into their strategy.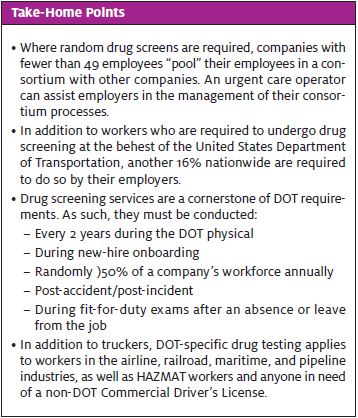 References
Federal Motor Carrier Safety Administration. Driver exemption programs. Available at: https://www.fmcsa.dot.gov/medical/driver-medical-requirements/driver-exemption-programs. Accessed September 5, 2022.
Adlin B. Feds reveal which industries drug test workers the most and least in new report. Marijuana Moment. Available at: https://www.marijuanamoment.net/feds-reveal-which-industries-drug-test-workers-the-most-and-least-in-new-report/. Accessed September 5, 2022.
Read Similar Articles
« Previous
Next »