Tweet

---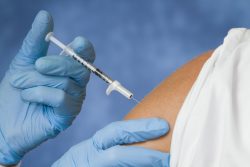 If you haven't noticed, it's flu season. In fact, it's been flu season longer than usual for this point compared with past years, thanks to an unexpectedly early arrival. With months to go, though, there's still time for patients who have not been immunized to reap the benefits of getting a flu shot.
This is not to say that influenza is the only immunization patients need. With reports of measles also beginning to climb as we go to press, unprotected people of all ages need to ensure they're up to date on their MMR vaccine.
Both those vaccinations are likely to be available in the closes urgent care center. In fact, flu shots are the most common immunization offered in urgent care, according to data in the Urgent Care Association's 2018 Benchmarking Report. (MMR is the fifth most common.)
Interestingly, according to the report, commercial payers often exclude wellness services such as immunizations in urgent care centers.  "We can speculate that the payers assume that wellness services are delivered via the patient's medical home," the report conjectures, "yet survey respondents indicate that 35% of patients seeking care in their centers are unaffiliated with a PCP."
The graph below, featuring data from the UCA report, can tell you whether your vaccine offerings put you at a competitive advantage—or a disadvantage—vs other urgent care locations in your area.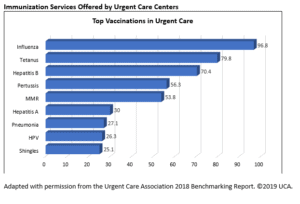 « Previous
Next »